About Robert
After 29 years of making furniture, it is nice to be able to say that going to work is still fantastic. No clock watching, or bemoaning working on a weekend. I love woodworking.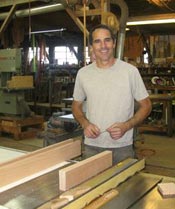 The challenges of designing, engineering, and crafting a new piece of furniture are exhilarating. Working with wonderful clients who are involved with the progression of the work from Day One through Completion is very rewarding. Stepping back and seeing a beautiful new piece of furniture is just plain wonderful.
I have always striven to make furniture that is simply elegant. Choosing from the exquisite array of domestic woods available and using time honored woodworking techniques—coupled with bits of my own inspiration—I believe that the pieces I make will stand the test of time and become the heirlooms of generations to come.
Press
Click here to read an article about Robert,
his craft and his process in
Woodwork Magazine.
(pdf format)
What Clients Have Said…
Robert has consistently worked with me to produce furniture that is both exactly what I hope for, and more than I expect. There is no trace of hurry or compromise in his work—it embodies the ideals of the 'slow food' movement, expressed in furniture.
Robert's furniture shows modesty and gracefulness, exquisite skill, and exquisite care. His furniture is engineered so well that it continues to look, and work, perfectly—year after year. It is truly perfect.
—Athos Kasapi
…Part of the fun of working with Robert is the design phase. He is patient and always figures out a way to construct complex pieces or difficult joints. This allows Robert the ability to build almost any design. And because he often harvests his own trees, he handles the wood from start to finish.
Robert is a man who is so talented and focused on his craft as a furniture maker that he produces furniture at the highest level. Combine his craftsmanship with his integrity and warmth and you become a proud owner of a beautiful piece of furniture you will treasure forever. We hope the furniture we have bought will be passed down through generations as his furniture is built to last. We are simply the first owners responsible for its care.
Furniture or pieces of art? It is your decision how you see them. Either way they are meant to be enjoyed.
—Michael Zolezzi
Robert has crafted numerous pieces for my home, from furniture to shoji screens to window transoms. He masterfully highlights the character of the wood while creating works that are both exquisitely functional and artistic in form. He designs pieces to elegantly showcase the figuring and texture of the wood while conveying the essence of the 'feeling' that I seek, whether it be Craftsman, wabi-sabi or modern in style.
Robert has milled and stockpiled a phenomenal barn full of wood, most of which is jaw-dropping in its natural beauty. He designs and builds elegant furniture from some of the most spectacular wood that is available—he is truly a craftsman in the purest sense of the word.
—James H. Jones